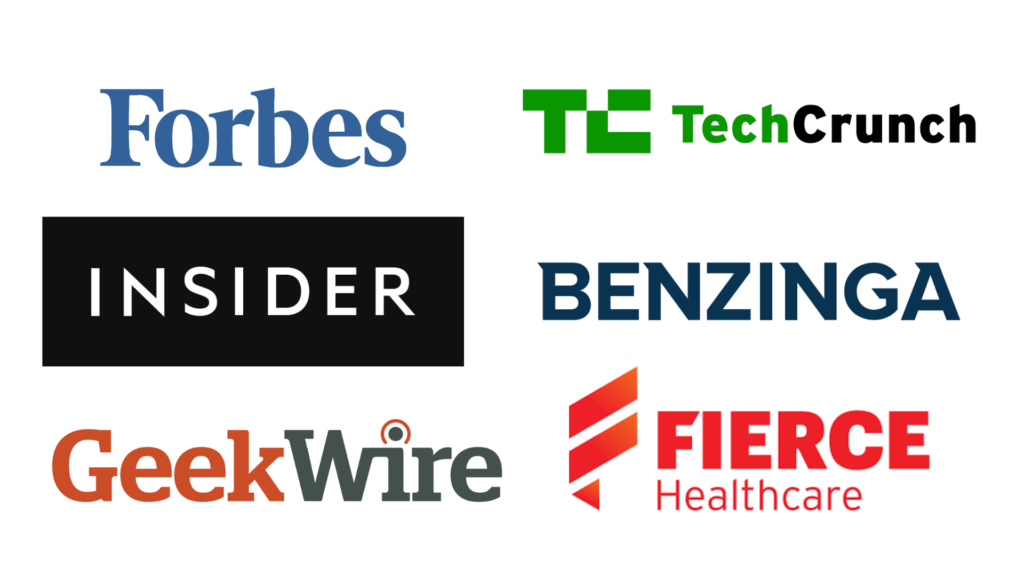 From healthcare and the life sciences to cleantech and edtech, the clients we serve at s2s are building solutions with massive impact potential—and strategic storytelling plays a major part in business growth. It's our job to get the recipe for impact right: from timing, to audiences, to the greater implications for our world. It's especially rewarding when we're able to help tell these stories to a larger audience through earned media.
As we head into the second half of 2022, here are eight of our favorite client media wins from the first six months. The stories below reached media outlets with a collective total of more than 106 million unique monthly readers.
Forbes
"Maritime Blue's Third Wave Includes Plastic Alternatives, Sustainable Seafood Snacks And Electric Outboards"
Washington Maritime Blue, a strategic alliance for maritime innovation and sustainability for the growth of the blue economy, has invested over $200M in three cohorts of startups with a focus on sustainability and commitment to centering on equity. The third wave of PNW-based innovators includes Algeon Materials, Blue Dot Kitchen, and Photon Marine.
Insider
"A New Startup Wants to Teach Kids Math Through VR. It Just Raised $4M from A16z and the Cofounder of Oculus."
Prisms of Reality, an edtech company using spatial learning science to teach math in VR, raised $4M from Andreessen Horowitz and the co-founders of Oculus and Quizlet. Prisms CEO Anurupa Ganguly caught up with Insider reporter Madeline Renbarger to discuss the promise of VR in education and how her team hopes to grow to 100,000 students in 65 school districts across 15 states by this fall.
TechCrunch
"3 Things You Can Do Right Now to Support Ukraine's IT Sector"
For many in Ukraine's tech ecosystem, continuing to work throughout Russia's invasion has become an act of resistance. Emmy Gengler, CEO of SoftJourn, a global technology services provider, shares three ways those across the globe can support Ukraine's IT sector.
Fierce Healthcare
"UC Davis Health, Houston Methodist Ink Partnerships With BioIntelliSense for Wearable Health Monitoring"
BioIntelliSense, a continuous health monitoring, and clinical intelligence company, launched strategic collaborations with UC Davis Health and Houston Methodist to deploy the BioSticker® and BioButton™ to state-of-the-art clinical command centers, addressing staffing shortages and extending access to continuous, high-quality care from hospital to home.
Benzinga
"Beyond Your Parents' Bud: A Cannabis Science Insider Breaks Down The Top 3 Factors To Uplevel Your Entire Experience"
Consumers expect–and deserve–a consistent experience and that boils down to cannabis' chemical fingerprint. Jordan Zager, CEO of Pullman-based agtech innovator Dewey Scientific, shares how sound science and standardized labeling are redefining the consumer cannabis market, leading to elevated aroma profiles and making effects predictable.
Geekwire
"Gates Foundation Funds Biotech Company Cataloging the Viruses That Infect Bacteria"
Phase Genomics, a leading developer of proximity ligation-based genomic solutions, gained $5.5M in grant funding from the Bill and Melinda Gates Foundation and the National Institute of Allergy and Infectious Diseases to develop the world's first atlas of phage-bacteria interactions. Phages, the viruses that infect bacteria, are among the most plentiful lifeforms on earth and a promising avenue for therapeutic development to address antimicrobial-resistant infections.
Geekwire
"This Seattle Startup Just Raised $2.2M for an App That Detects Ear Infections"
Wavely Diagnostics, a digital diagnostics company developing a smartphone app to detect ear infections from anywhere, raised $2.2 million. The funds will be used to launch and market Wavely's product, which the team hopes will enable parents to shift the primary cause of millions of doctor visits–ear infections–to virtual visits.
Ophthalmology Times
"Correcting a Chronic Problem That Plagues Drop Instillation"
Nanodropper, a patient-centered devices company commercializing a volume-reducing adaptor for eyedrop bottles, launched two donation programs to bring the Nanodropper Adapter to patients in the US and in Ghana. The proprietary dropper reduces eye drop volume by roughly 60% to just what the eye can absorb, reducing the per-dose cost, decreasing waste, and minimizing potential side effects of vision-saving treatments.

If you want to explore how s2s can help amplify the next big milestone for your startup, reach out anytime.