Author: Jessica McNellis, Media Relations Manager
"SEO", or Search Engine Optimization, is one of those buzzwords that permeates nearly every marketing and communications conversation.
We know that it's important. Just look at the increased search volume for SEO-related topics over the last 20 years:
But we don't always know how to do it successfully. In part, because the how is always changing.
How do I rank on page one of Google?
How do I know what search words I should be trying to rank for?
How do I stack up against my competitors?
How do I make sure my website is written in a way that is SEO friendly?
SEO is so complex and so constantly evolving that many large organizations have entire internal roles dedicated to SEO, or hire outside specialists to track the developments and adapt their content. While that resource investment isn't doable for all companies, there are things startups can do today to get set up for success.
For example, resources like Moz's search engine optimization series help even the most SEO-hesitant learners demystify and break down the core SEO concepts to rank in front of the right audiences—and learn how to avoid common mistakes that drop you down in the search rankings.
Six bite-sized considerations from that series to keep in mind when building your SEO strategy:
1. SEO objectives and business objectives should be linked.
When you start building out your SEO strategy, the first question should not be, "What keywords do we want to rank for?" It should be, "What are our business goals?"
Are you looking to sell a product? Adopt new customers or clients? Get in front of investors?
Once you answer that question, you'll create a strategy to rank in search results relevant to the questions those audiences are asking.
2. Play the long game.
Improving search engine rankings doesn't happen overnight. It's a minimum 24-month process, which is why it's so important to focus on SEO early in your startup journey. When you're starting out, you're not going to be able to immediately rank for high competition keywords, like "technology startup" or "life sciences startup".
Step one is to focus on ranking for low-demand keywords—those with a smaller number of search results—with a high conversion rate—searches that very specifically address an audience need only you can fill. Then move on to ranking for high-demand keywords—those with a greater number of search results—that have low competition. Put another way, relevant terms and phrases for your business that everyone else in the industry isn't trying to rank for.
After 12-18 months, if you're doing well with ranking in those categories, you can start considering going after higher competition keywords.
3. Do your keyword research.
Before doing any of the SEO work, you first need to get into your audience's head. Identify what words or phrases people are searching for and what answers they're looking to have answered with those searches. Once you've solved those two pieces of the puzzle, structure your content to address those needs.
Two big SEO mistakes we commonly make:
Choosing terms and phrases that no one is looking for
Trying to rank for terms and phrases that are far too difficult for you to reasonably rank for out of the gate
Many organizations consult with SEO experts to identify what keywords and phrases best match their business objectives and cross-check against the volume of people searching for those terms, difficulty to rank, organic click-through rate, and other metrics. But there are avenues the average person can utilize to achieve similar results. To start, there are a variety of SEO tools to help you understand the potential competition behind your keywords—and even which keywords your competitors are using—from free sites and browser add-ons like Google Trends, Moz Keyword Explorer, Ubersuggest, and Keywords Everywhere to paid solutions like Moz, Semrush and Ahrefs.
4. Optimize your content and website.
Once you know which words and phrases you want to rank for, and what content you need to create to answer the questions that the searcher is looking for, it's time to create. Develop resources, written content, interactive features, and links to related pages that will answer their next question on the page Google is now directing them to. You'll want to make sure these pages stay up to date with the most relevant information and are written in an SEO-friendly way.
A common SEO writing misconception is that you need to take all of these words and phrases and cram them into all of the headlines, descriptions, tags, meta keywords, and everywhere in between to improve your ranking. While you need the correct keywords and phrases to appear on the correct pages, it's better for your ranking to optimize your site for an appealing user experience that immediately leads them to the content they're looking for instead of filling a page with overly busy text. Google's most recent "Helpful Content" update demonstrates the search engine's dedication to prioritizing content that shows depth of knowledge rather than content that simply knows how to game the system through keyword stacking.
You're going to want to focus on a descriptive, compelling, keyword-rich title since that's what will first show up in the search results and urge the user to click through. The meta description, which also shows up as a teaser in the search results, should also tell people what they'll find on the page and lure them in. And paragraph one on the page should be optimized to specifically address commonly asked questions for the best chance to appear as a featured snippet on Google, which you might recognize as the boxes that answer related questions when you search a question.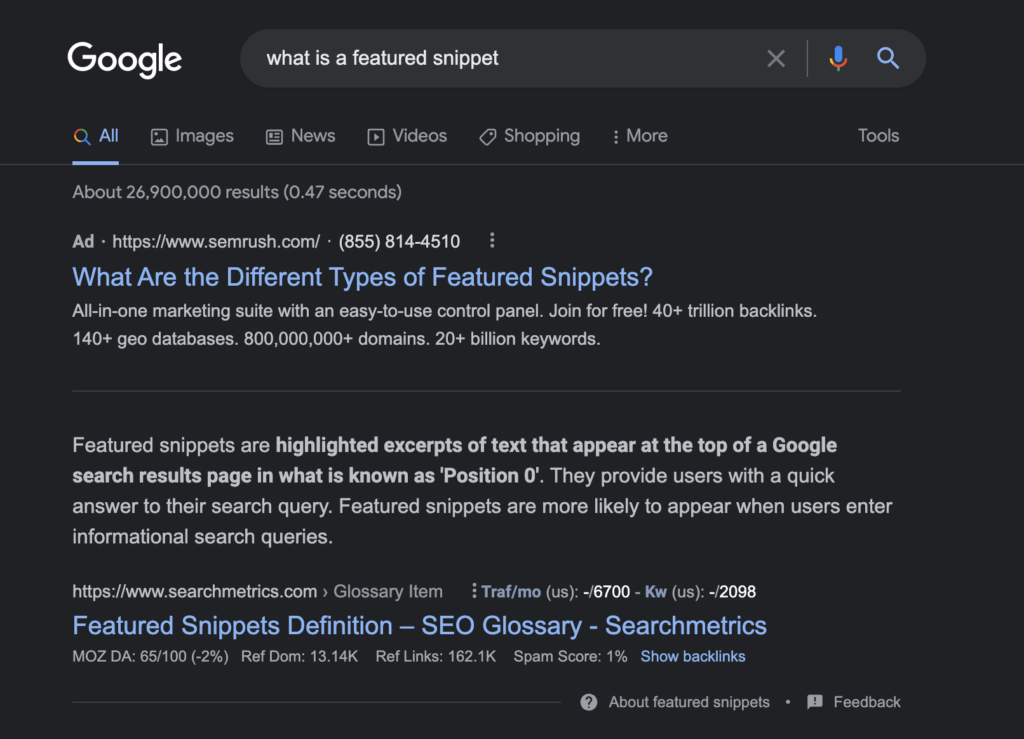 On a more technical level, there are also considerations when it comes to creating easy-to-read, short URLs, subfolders instead of subdomains, image descriptions to appear in Google Image searches, and other elements that might not be top of mind to improve ranking.
5. Searcher satisfaction is king.
Over the last decade, searcher satisfaction has become a huge part of search engine optimization success. What exactly does that mean? Don't give the searcher a reason to click the back button once they reach your page. Someone can do a great job of ranking, but if the searcher reaches the website and is immediately unsatisfied with the result, causing them to quickly navigate away, Google will notice that pattern and will push that result down in the rankings over time.
To avoid this, make sure you are matching keywords to specific pages on your site that immediately address your audience's needs in a comprehensive and authoritative way. Then take it one step further: anticipate their next needs and questions to keep them on your site longer.
6. Links matter. Here's why (and how to earn them).
Here's where your PR media strategy comes in.
In short, what other people say about you is more important than what you say about yourself. Not a good rule to live by, but a necessary mindset when you're working to crawl up the Google rankings. Links back to your website from trusted news sources or other websites with a high domain authority, particularly if it's content of an editorial nature, like earned media, blogs, contributed articles, prominent events and awards, links from your partner's websites, or major organizations, etc. further validates you in Google's eyes. Google is able to identify the difference between editorial content and paid content and prioritizes pages with a regular cadence of "earned" links over those driven by advertising.
So how do you earn links? Outreach around content is the tried-and-true approach. Produce a resource with valuable content people will want to link back to and have that live on your website. It could be relevant news updates, press releases, thought pieces, data and research, or any other piece of owned content solving that audience's needs. Then share that with reporters in the space, organizations who will find it valuable, partners, influencers, and any other relevant avenue that might result in someone sharing and linking back to your site. Other avenues for driving links include participating in events and awards, which often results in that organization linking back to your site when they announce participants, inclusion in relevant directories and resource pages, joining industry associations and other groups in your space, etc.
Creating the perfect SEO strategy might seem forever elusive, but developing a consistent content and media strategy that keeps you relevant to those audiences has remained the same since its inception. More tips on how to drive awareness for your startup through earned media coverage and strategic content on your social media channels here on the s2s blog.