Author: Jessica McNellis, Media Relations Manager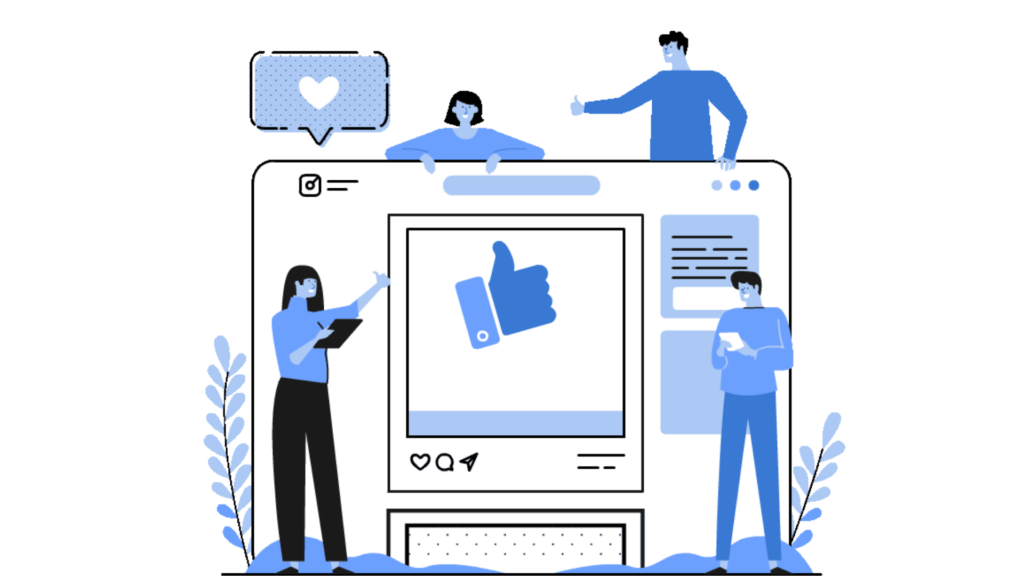 The state of journalism has been a quickly evolving conversation for the last two decades, even more so over the last two years.
As news became more accessible online with the rise of digital media, we started to witness a steady decline in paid subscribers and readership for daily papers that continue to fight for paid digital subscribers. This led to the race to publish first in a 24/7 online news cycle, with broadcast stations competing with CNN's 24-hour coverage and digital and social media breaking stories ahead of the daily papers. All of these transitions play a role in the ongoing consolidation of newspapers, staff and even reporter beats to address mounting financial woes experienced by news outlets.
But no one could've anticipated the next wave of the shifting newsroom we're experiencing: the (almost) post-pandemic newsroom.
I listened in on MuckRack's State of Journalism 2022 webinar, bringing together reporters and PR executives who are navigating the new world of journalism to discuss what's changed for good and where the newsroom is returning to "normal". 
4 key themes from that conversation, and how business leaders and PR professionals should respond:
So long, traditional newsroom
The days of one reporter owning one beat, a bustling in-person newsroom overflowing with staff, and time to dive deep into each story are behind us. According to the latest survey data, the average reporter now covers approximately four different beats at a time, publishing a minimum of five stories a week, and creating content across at least two mediums, whether that be online, print, podcasts, video, or newsletters.
The demand for new stories and more diverse content across platforms comes as newsroom staff continues to thin along with revenue. And one of the top resources for reporters working on stories: Twitter.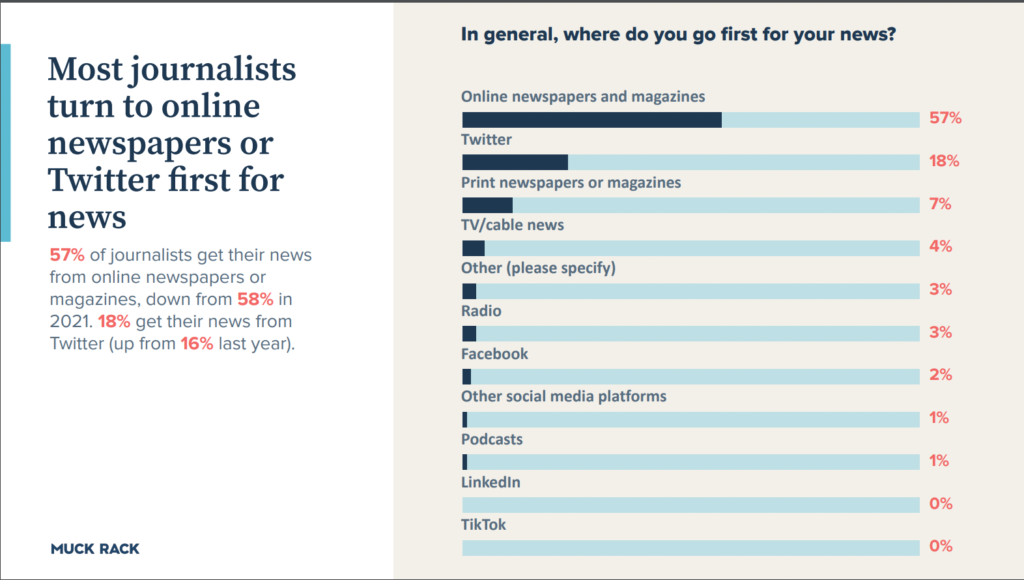 Like most industries, the media industry is still unsure what the permanent return to work policy will look like. Some newsrooms have remained largely virtual with reporters working all around the world. Others have started going back to a hybrid or full-time model to recreate the typical newsroom environment, but are often working with colleagues who are fully remote.
The one thing that remains certain is the 24/7 news cycle has never been more demanding and readers have become more engaged—and more critical—of the day-to-day news reporting than ever before. Empathy for reporters still working in the field is key. There will certainly continue to be massive waves of change in the state of journalism over the next few years.
Dominating themes reverberate across every beat
Throughout the pandemic, if you felt like every single headline, no matter the industry, seemed to read something like, "The impact of COVID-19 on [fill in the blank]" you were not imagining things. The breaking news stories continue to influence what stories reporters are prioritizing across the newsroom. Whether they cover the technology beat, business, entertainment news, or health, COVID-19 took center stage.
Just as we started to see a slowdown in the "return to work" pandemic stories, the next dominating theme emerged: the war in Ukraine.
Journalists on the MuckRack panel anticipate we will continue to see these cohesive breaking news ties emerge across beats going forward. Whether that be new cycles of COVID news, the election, or the next unpredictable breaking news headline.
When you're thinking about how to tell your company's story in the earned media space, consider your unique point of view or your impact on the dominating theme driving headlines.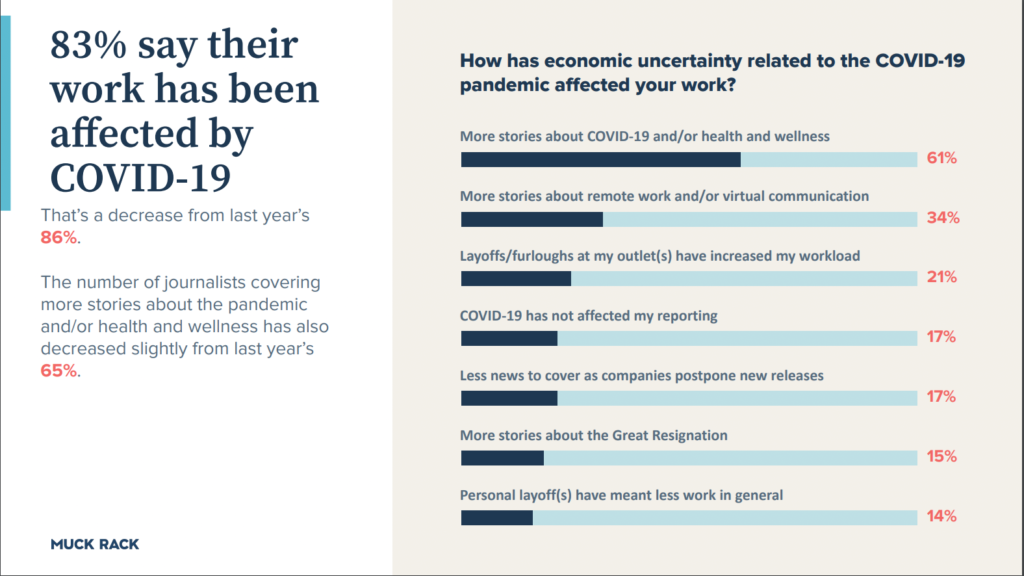 In-person event attendance is gradually returning
…But not for all events. According to the latest data, while 53% of journalists plan to attend more in-person events in 2022, the tech and auto industry had the highest percentage of journalists that said they'd attend fewer events this year compared to 2021. The theme seems to be prioritizing major industry events like TechCrunch Disrupt and skipping smaller events, especially if they're able to attend virtually instead.
On the panel, there were mixed reviews on plans to ramp up event attendance. While some reporters are eager to return to events for story mining and connecting with sources, others still have concerns about unnecessary travel and exposure, especially if there are virtual options available for their priority events.
If you're noticing unsteady media attendance at once media-heavy events, showing the value of attending in person is critical.
The future of journalism looks bright
While it's been an especially tough few years for journalists, there's an aura of optimism about the future of the industry. The remote newsroom opens doors to draw in a more diverse pool of talent from all over the country and from different backgrounds. Now that the talent pool is no longer constrained to certain media hubs, there's a broader opportunity to bring new voices and points of view into the media landscape.
While we're seeing local newsrooms continue to struggle, it's been encouraging that readers and the media industry as a whole see the value of local news and are exploring innovative solutions to keep it alive (i.e. Axios' local newsletters).
The newsroom may no longer look like a scene from your favorite journalism biopic, but if you understand how to navigate its transformation to get the right story told, you'll still benefit.